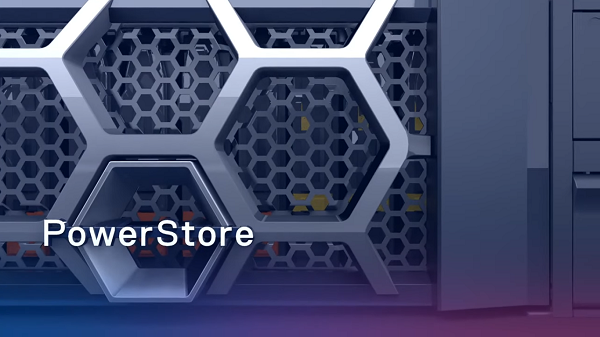 Dell officially announces, releases, and launches their new midrange storage product today. You may have heard rumors about this platform under its code name midrange.next. Today, the product is released as PowerStore, so lets take a minute and talk details!
I was happy to participate in the beta program several months ago, so I've already gotten up close and personal with the array. Lets start at the top, because there is a lot to unpack here. First, there are 2 distinct versions, the PowerStore X and the PowerStore T. Within each of these are separate models. I'll get into what differentiates all these choices, but all the versions and models use the same packaging, which is built off of a 2U appliance.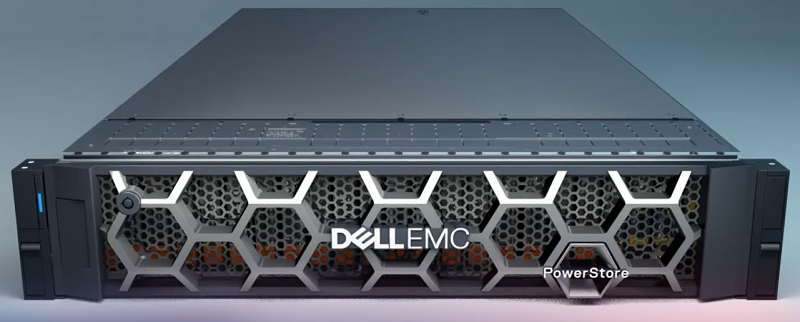 That appliance contains 2 controllers in the rear and 25 NVMe drive slots across the front. Of those 25 drive slots, 21 are usable for capacity drives. The other 4 slots are used for an NVRAM based cache. Now, the lower end models, which I'll show below, only use 2 of those NVRAM drives, but all 4 slots are still reserved.
Across the back (below), you can see the 2 enclosures, with controller A on the bottom and controller B on top. In the image below, you can see the integrated 4 SAS ports for each controller, as well as the 2 configurable IO modules per controller, and the IP mezzanine cards. Each of those IO modules can be 10Gb (optical or base-t), 25GB (optical), 32Gb Fibre Channel, or 16Gb Fibre Channel. Port wise, all the models have the same options, same number of ports, same density. Based on these options, you can end up cramming in a total of 24 iSCSI ports. You can get 16 Fibre Channel ports + your mezzanine 8 iSCSI ports if you want to go that way.

Sticking with the physical configuration for now, this base enclosure allows you to get up to 21 NVMe drives, which can be SSD or SCM, right in that 2U enclosure. To scale capacity beyond that point, you can add up to 3 additional expansion enclosures, which are chained off the back using 4 x 12GB/s SAS. So, at least today, you are limited to 21 NVMe drives, and any additional drives would end up 12Gb SAS.
Drive Options:
| | |
| --- | --- |
| Drive Size | Drive Type |
| 375GB | SCM |
| 750GB | SCM |
| 1.92TB | NVMe SSD |
| 3.84TB | NVMe SSD |
| 7.68TB | NVMe SSD |
| 15.36TB | NVMe SSD |
Drive Options in the base enclosure at launch
| | |
| --- | --- |
| Drive Size | Drive Type |
| 1.92TB | SAS SSD |
| 3.84TB | SAS SSD |
| 7.68TB | SAS SSD |
Drive Options for expansion enclosures at launch
These are all SED drives, so all data is encrypted. All of the capacity drives are FIPS certified. The NVRAM drives, which are the ones in the first 4 slots used for cache, are still encrypted but are not FIPS certified. The system uses internal key management, and there is no option for connecting an external key management infrastructure at this time. External key management is a requirement for the overall solution to be qualified under some standards or regulations, so its something to note.
Based on those drive counts and sizes, you can get a maximum of 384TB raw of NVMe. You can add up to 768TB raw of SAS SSD for a total capacity of about 900TB.
All processors are Intel Skylake EP, and all appliances have a total of 4 sockets, which is 2 sockets per node. As I mention above, things like drive counts, port counts, and the like are the same across all models, so I'll show a few things that differ across the line below:
Per Pair
1000
3000
5000
7000
9000
Max Drives
96
96
96
96
96
NVRAM Drives
2
2
4
4
4
Memory
384GB
768GB
1,152GB
1,536GB
2,560GB
Total Cores
4 sockets
32 @ 1.8GHz
48 @ 2.1GHz
64 @ 2.1GHz
80 @ 2.4GHz
112 @ 2.1GHz
Max Capacity
~900TB
~900TB
~900TB
~900TB
~900TB
Hardware Aspects of PowerStore
Here is the official Dell press release, if you'd like to take a look at that, or the official PowerStore site here.
My take, hardware wise? Seems pretty reasonable. I would guess that nobody fell out of their chairs reading this.
Many products in this space are built from parts out of the same bin, so the differentiation comes in software, right? In my next installment, we'll take a look at software and architecture choices. Read on!
Have any thoughts on the PowerStore hardware? Let me know below!
Categories: Datacenter Hyperconverged Storage
Rick Gouin