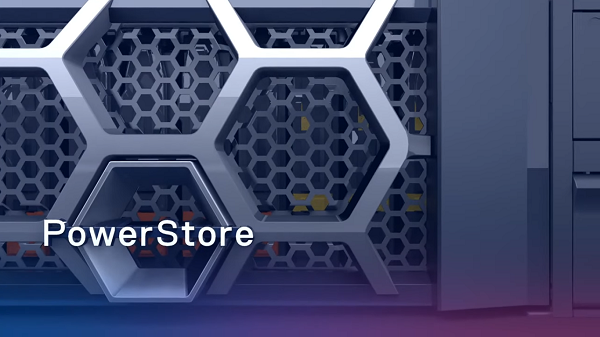 In the last segment, we went over PowerStore hardware. This time, we are going to dig into some more of the features, functionality, and capabilities of this newest midrange all flash storage array from Dell.
The Basics: RAID
PowerStore supports RAID 5, and you can choose from one of two different stripe widths. 4+1 or 8+1. Thats it! Hope you weren't thinking about using double parity on those 15TB flash drives. This old school RAID underpinning will have an impact on how you scale the system going forward, so its an important point. These RAID groups are managed as a pool of storage, similar to Unity dynamic pools. When you take a look at the requirements and little provisos, you'll start to see that this part actually looks an awful lot like Unity. My guess is that this was borrowed from that product line. Ok, so it isn't super innovative here, but we can look at that in 2 different ways. This is arguably the most critical part of the infrastructure, so maybe its a good thing that this product builds on what has to be one of the most common, proven, and tested RAID engines in the world. On the other hand, it would have been cool to see something new or at least a bit more innovative.
Access wise, it is active/active front end and back. Front end is via the traditional ALUA optimized path approach that we see in the midrange.
T vs X
If you read the first section, I mentioned that there are 2 versions: PowerStore T and PowerStore X. The basic difference is that PowerStore T is your typical Dell unified storage array. PowerStore X is also a storage array, but it has the capability to run virtual machines right on the storage array. Dell is calling this feature "Apps On". How does it do that? Well, PowerStore X is actually running VMware and runs the storage array as a controller VM. Each node of the appliance is a VMware node, with a controller VM running in it. PowerStore X can service traditional physical workloads via iSCSI and Fibre Channel like any other sweet Dell storage array. It can also serve storage to VMs running on the appliance itself. Pretty cool!
The PowerStore T is not running VMware, and so this difference between the two versions leads to a number of other differences down the road. Some of those will come up here.
Unified!
The PowerStore T provides 2 different modes, which you choose when you first set it up. You can install it in unified mode, which means that it supports file services. You can also install it in block optimized mode, which means it does not provide file services. You can't change your mind later. The file services look a little familiar too. Nothing that is going to knock your socks off here, but solid midrange file services that will do the job. This feature is not applicable to PowerStore X at this time. Protocal stack is NFSv3, NFSv4, NFSv4.1; CIFS (SMB 1), SMB 2, SMB 3.0, SMB 3.02, and SMB 3.1.1; FTP and SFTP. Now, you can only have one unified box per cluster. WAIT, cluster?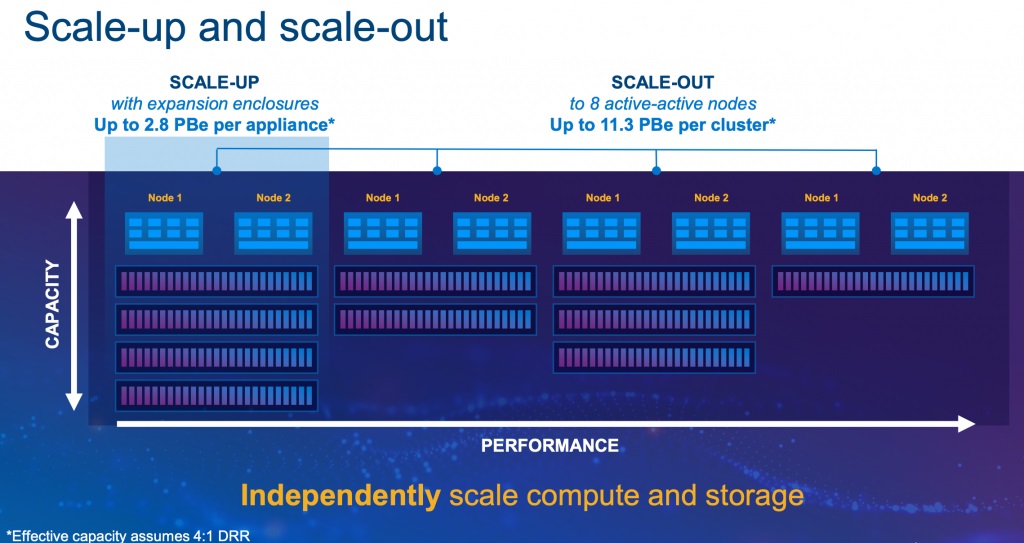 Cluster?
There is a lot of time being spent on how the PowerStore T systems exist in a cluster. This feature is not applicable to PowerStore X at this time. I would say that at this point, it is more a vision than an aspect of the product that delivers much practical value. Today, its more like a loose federation than a cluster. So, here is the deal: You can add multiple appliances to a cluster. These appliances can be managed from a single instance of the interface. Each appliance still maintains its own data and is independent as far as striping, protection, IO, cache, or anything like that goes.
There is some basic intelligence regarding workload placement across the cluster when you create new devices, which they call Resource Balancer. This primarily takes capacity into account, and does not consider performance.
That's more or less the extent of the cluster. It can not seamlessly and dynamically move workloads back and forth between systems in a cluster, as you might expect based on capabilities elsewhere in the portfolio. There is, however, a copy and cutover process where you can do a one way migration of volumes within a cluster. This migration facility allows you to manually (with optional suggestions) identify volumes to move from one cluster to another, which it will then copy and cut-over. Watch out for your zoning and mapping! This process isn't going to happen automatically, such as in response to failure or a system being overloaded. This feature can't be used for fault tolerance, DR, HA, or anything like that. Its still a handy little tool. There is also no data or workload sharing. Based on the emphasis I've seen on this feature in the marketing, I expect this to be an area of future growth.
There are cluster related services that run on a master node in the cluster. There is the idea of a quorum and the usual considerations around that. So, we see some typical cluster requirements, but we aren't getting a ton of cluster like features for it at this point. I'm hopeful this means that the system has been designed for these capabilities to be enhanced.
You can mix models (1000, 2000, 3000, etc)within a cluster, and scale the cluster up to 4 appliances, or 8 nodes.
Data Reduction!
Its always on. Compression is offloaded via Intel QAT. It is a combination of Dedupe and data reduction. Dell is guaranteeing a 4:1 data reduction ratio as part of the program supporting this device. That could come in handy!
AppsOn!
As I mention above, this applies only to the PowerStore X, and is the ability to run virtual machines right on the storage array. Whats the use case here? Eventually, I see it as being attractive to customers who like the appeal of hyperconverged but have larger datasets that sometimes make those options less practical or perhaps affordable. Today, I can see this being applied in place of physical servers that have high performance requirements. The PowerStore X has the same hardware as the PowerStore T. This means that some resources will be consumed by the storage services, and some by the VM workloads. We'll have to keep an eye on sizing.

AnyTime Upgrades
I hesitate to write about this, because like the data reduction guarantee and Future Proof Storage Loyalty program, this is a program, not a technology. Lets touch on it quickly though. This is an optional program, which means that you pay for it. Its kind of considered part of your support contract. There are 3 different types:
Next-Gen: Upgrade appliance to the next generation
Higher Model: Upgrade to more powerful nodes within the current generation
Scale-Out: Apply a discount to expand your environment with a second appliance
I could see how this would be appealing to a certain type of consumer. Check out what Dell says about the Anytime Upgrade program here.
My Take: I have one of these in my lab, and am looking forward to playing with it a bit and following the product as it advances. To me, it seems like a first release of something that was thoughtfully architected to lay the foundation for advancement as they continue to develop the product. I'm looking forward to it!
What do you think about PowerStore? Have any questions? Let me know below!

Categories: Datacenter Storage
Rick Gouin