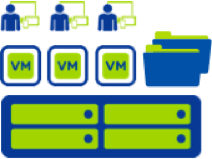 Last year at .NEXT 2015 in Miami, Nutanix announced scale out NAS services which was for Acropolis only.  In version 4.7, which was announced at .NEXT 2016 in Las Vegas, this feature will be available on AHV and ESXi.  Its pretty cool.  Check out the official feature page here.
Here is the basic idea.  You can deploy scale out file services straight from Prism (the Nutanix UI) without creating any front end VMs or rolling out any images.  What happens is you create a file server via the Prism interface (see below).  You can create multiple separate file server environments. The Acropolis Distributed Storage Fabric then automatically rolls out NAS VMs across your environment.  You need to have a minimum of 3 of these VMs, and you can specify how many to roll out.  You can only put 1 VM from a given file server on a physical node, so you can't have all 3 of those VMs on the same physical host.  You can add more of these instances in the future, and you can also change the resources available to the instances, so scaling is easy.  Here is a press release that has many details straight from Nutanix.  This might be a bit outdated now, but many of these details remain the same.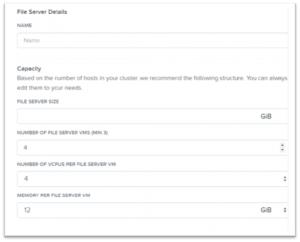 Blurry image of Prism AFS configuration

The data is then stored in a storage container that you can configure like any other.  Choose the resiliency level, RF-2 or RF-3, configure compression and dedupe, etc.  This means that your NAS data gets all the benefits of the cluster, providing high availability and should deliver a good cost per GB.  It also has some NAS specific features such as quotas, Active Directory integration, and can be backed up like other NAS shares.  It doesn't count as a VM, so it can be deployed on storage only nodes.
Its surprising how often this comes up as a requirement from businesses considering Nutanix.  "If I have to keep file services anyway, I may as well keep my storage array.  After all, its unified."  Its a frustrating problem, and these file services should help in some of those situations.  It may be some time before AFS addresses all of the requirements for a major unstructured file environment, but the basic requirements are met here today.
Categories: Datacenter Servers Storage Virtualization
Rick Gouin