** UPDATE ** This platform is no longer unified.  Dell has removed the ability for the SC7020 to provide NAS services.  The system has also had its scalability limited from a drive count perspective.  Now at 500 drives.  I will keep my comments on these changes to myself.   ***
A couple weeks back, Dell made a new storage platform available with very little fanfare.  This new array, the SC7020, is positioned as a refresh for the SC8000 series.  You may recall this post, where we talk about how the SC9000 is not meant to replace the SC8000.  This is because, in the long run, the SC7020 is.
A Compellent Storage Center based offering, this new model uses a totally different hardware platform and has some big changes compared to the rest of the Dell SC (Compellent) product line.
HARDWARE
The SC7020 is a 3U package, which includes 2 controllers and 30 x 2.5″ drives in a single chassis.  In this way, it is arranged sort of like a fat SC4020.  You'll notice that unlike the SC9000 or SC8000, which are based on the Dell R730/R720 rack mount servers, the SC7020 doesn't resemble any existing Dell servers.

The SC7020 has 3 slots for expansion modules, as you can see in the graphic below.  You can mix and match what goes into those modules, with these options:
4 port 16Gb FC
4 port 8Gb FC
2 port 10Gb iSCSI – Copper/Optical/Base-T
4 port 12Gb SAS
There is also a 4 port mezzanine NIC, which must be selected, and you can choose from RJ-45 or SFP+ there.  With this mezz card, the system already has a plenty of IP connectivity.

Unlike the SC4020, the SC7020 does not require you to put drives into those 30 drives bays.  You can solely use external drive shelves if you like, which is the approach on the SC8000 and SC9000.  Not filling the internal drive bays makes some future operations easier, such as controller swaps/upgrades.  Also a good idea in situations where you are replacing an SC8000 with the SC7020 and swinging your existing disks behind the SC7020.  If you DO put drives directly into the controller enclosure, as I suspect most customers will, you need a minimum of 7 spinning drives, or 4 SSDs in there.
The back of the controllers each look like this.  There will be 2 of these in a given system: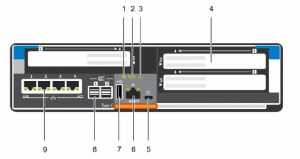 | | | |
| --- | --- | --- |
| 1 | Identification LED | You can blink this LED from DSM to identify which system is which. |
| 2 | Cache to Flash (C2F) | This light will normally be off.  If its on, it means you are running on battery. |
| 3 | Health Status Light | This light will do different things depending on the status.  When powered up normally, this will be green.  When powering up, it will be amber. |
| 4 | IO Card Slots | These 3 full heigh, half depth PCI slots are where your IO modules go. |
| 5 | Serial Port (USB) | Pretty much just used in the initial configuration of the box, or if something goes very wrong. |
| 6 | Management Port | Usual management port connectivity.  This is what you'll point Dell Storage Manager at. |
| 7 | USB Port | Used for getting phone home type data off the system for dark sites. |
| 8 | SAS Ports | Built in SAS ports for drive expansion.  You hang disk enclosures off of these. |
| 9 | Mezzanine NIC Card | Light provides the usual link behavior for NICs |
The system scales up to 500 drives, so it has less scale than the SC8000 did.  The reality, however, is with SSD density what it is, we aren't seeing very many NEW Compellent systems with more than 500 drives.
SOFTWARE
The SC7020 requires SCOS version 7.x, which we talked about here.  This was a big release with a lot of great features in it, including Dedupe, Quality of Service, and more.  SCOS 7.x will be available on all current platforms, though some features may not apply to some platforms.  For example, the SCv2000 doesn't do dedupe.
Industry
I think this platform has the potential to be the most feature complete and flexible product in the mid-range space.  If  you look across the industry, most of the offerings are missing at least one of these features that are real difference makers.  Its actually kind of tough to find a mature offering that ticks these 5 boxes:
Dedupe & Compression
Fibre Channel / FCOE support
Hardware/Software unified NAS (oops)
Tiering
QOS
What do you think about the new SC7020?  Why didn't Dell make a bigger splash when it was released?  Let me know below!
Categories: Datacenter Storage
Rick Gouin